ANNOUNCING THE 2012 OPHTHALMIC MEDICAL ASSISTANT PROGRAM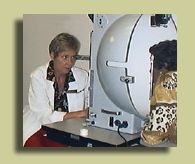 Our Ophthalmic Medical Assistant Program meets the certification criteria of the Joint Commission on Allied Health Personnel in Ophthalmology (JCAHPO). As set forth by the Committee on Accreditation for Ophthalmic Medical Personnel, this program lasts a minimum of 80 hours and meets the Standards of an Approved Educational Program for the Ophthalmic Medical Assistant. Applicants are required to become familiar with the certification process by obtaining the latest booklet on "Criteria for Certification and Recertification."
This booklet may be obtained by writing to or calling the:
Joint Commission on Allied Health Personnel in Ophthalmology
2025 Woodlane Drive
St. Paul, MN 55125-2998
Tel: 1-(800)-284-3937
Examination application packets, also available from JCAHPO (jcahpo.org), contain relevant information to prepare for the computer-administered national certification examination. Each applicant is responsible for obtaining his/her own application packet
........................................................................................................................
PLEASE READ THE FOLLOWING CAREFULLY BEFORE APPLYING
The next Ophthalmic Assistant Program will begin on September 12, 2012 and run for 5 months (20 sessions) on Wednesdays from 9:00 AM to 1:00 PM. The 6 content areas required for certification are covered during this course, which is intended to supplement your learning experience in the office. Course materials cover both didactic and practical instruction.

PREREQUISITES
Minimum of a high school diploma (OFFICIAL HIGH SCHOOL OR COLLEGE TRANSCRIPTS & OTHER APPROPRIATE CREDENTIALS MUST BE RECEIVED IN THIS OFFICE ON OR BEFORE THE AUGUST 1, 2012 DEADLINE IN ORDER TO BE CONSIDERED FOR ACCEPTANCE)
Current employment in an ophthalmic setting for at least ONE year
Sponsorship by a licensed ophthalmologist.

AREAS COVERED AT ASSISTANT LEVEL
Anatomy & Physiology
History Taking
Basic Skills and Lensometry
Ophthalmic Patient Services & Education
Microbiology
Pharmacology
Medical Ethics
Sterilization of Surgical Instruments
Infection Control Procedures
Basic Tonometry & Glaucoma
Equipment Maintenance & Repair
General Medical Knowledge & CPR
Safety Procedures in Clinical Housekeeping

APPLICATION PROCEDURE
Complete application form and mail to:
Barbara F. Churchill, COT
Director, Ophthalmic Allied Health Programs
Institute of Ophthalmology and Visual Science
UMDNJ-New Jersey Medical School
90 Bergen Street, Rm. 6157
PO Box 1709
Newark, New Jersey 07101-1709
Tel: (973) 972-2036 Fax: (973) 972-2068
email:
churchbf@umdnj.edu
DEADLINE FOR APPLICATION:
August 1, 2012
All material must be in my office by this date. Class size will be limited to 15 students. Therefore, send your completed and signed application as soon as possible to ensure a place in this class.

TUITION & FEES


$975.00 payable to the NJMS DEPARTMENT OF OPHTHALMOLOGY due by AUGUST 1, 2012. This fee includes the cost of the required textbook, "The Ophthalmic Assistant: A Text for Allied and Associated Ophthalmic Personnel " by Harold A. Stein, MD; Raymond M. Stein, MD; and Melvin I. Freeman, MD. 8th edition. St. Louis: CV Mosby; 2006."



PARKING
Parking is available and is not included in the program fee. You may park in the DOC parking deck adjacent to our building at a cost of $7.50 for each class.
The Doctors Office Center (DOC) is accessible from downtown Newark by taking buses #21 or #34. Bus #34 stops at the corner of Bergen & 12th Ave. Many trains and buses run into Penn Station and the Broad St. station in downtown Newark.

REFUND POLICY

A tuition refund will be issued up to the start date of class, less $125 processing fee. After your first attendance on the first day of class, only half the total fee will be refunded. Thereafter, no refunds will be issued.