Principal Investigator
Post-doctoral Fellows
Research Assistants
Graduate Students
Previous Members
Akshay Gupta
Takahiro Ito
Archana Jaykumar
Samik Shah
Radia Abdul Wahab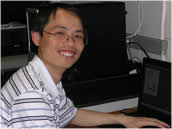 Jiandong Yu, Ph.D.
Postdoctoral Fellow
Department of Neurology and Neurosciences
UMDNJ New Jersey Medical School
MSB-H-515/516
185 South Orange Ave.
Newark, NJ 07103
Lab: 973 972.0167
Fax: 973.972.5059


I believe that synaptic transmission is one of the most fascinating and fundamental aspects of brain activity. My ultimate interest is in understanding the various modalities of synaptic plasticity form the rapid and activity dependent short-term plasticity to the metaplasticity of excitatory and inhibitory synapses in disease and how they contribute to normal and abnormal behavior of brain networks. Based on this interest, following my bachelors in biotechnology, I joined the lab of Dr.JinHui Wang at the Institute of Biophysics, CAS, China, to undertake graduate studies. My research focused on the influence of calcium signaling on short-term facilitation of unitary glutamatergic synapses from neocortical regular-spiking pyramidal neurons to a class of GABAergic interneurons expressing somatostatin. Following these studies I became interested in the contribution of synaptic plasticity to neurological disease and joined the Santhakumar lab to examine inhibitory circuit plasticity in epilepsy. Here I hope to apply my technical expertise in neurophysiology and gain the background and experience in studying neurological disease and inhibitory neuronal diversity so that I can eventually secure an independent research position focused on the formation and maturation of synapses and their contribution to neurodegenerative diseases.
Post-doctoral fellowship research is funded by: Epilepsy Foundation